I've been the proud owner of an iPhone for a while now, it's ok. Crap for photography and can't even shoot video (I'm 3G not the all new bells and whistles 3Gs). My old LG viewty was the best at little gorilla videos, I miss it.
But today I've found something the iPhone can do well.. shoot sequences.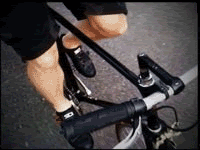 Of course a little bit of animation work is required in post production, still, this little test goes to show that off the cuff skate sequences are not too far away from this blog right here.
[LIALC]