Yep, I'm still dragging out these iPhone photos from last Saturday.
Riding Ten miles to go for a skate means that limiting the contents of my bag is normally a good idea. Of course losing the weight of a Canon DSLR and two flashes leaves me with only my iPhone for photo duties. A few photo applications are fun and this sequence one is probably the most fun, but let's get this straight... nothing beats using the right tools for the job.
The reason I mention this is because the day I choose to wuss-out on carrying cameras is the day that Awadh turns up and starts throwing these around like fun.. on an empty stomach I might ad.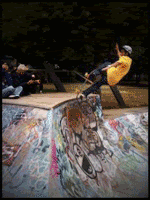 Before the F-S nose-grab competition began (which harry won), Jamie (Harry) was getting familiar with the hip with a few old faithfuls, one of which just happened to be a F-S Mute.
I still don't know if Adam got Harry the pint for first Nose-Grab, maybe it will be a bit of the old "Double-or-quits" for F-S Stale-fish next time.
Day 4 tomorrow, yep... there are more.
[LIALC]